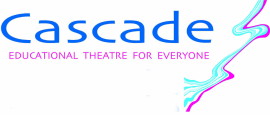 Cascade Theatre Company
South West
Cascade specialises in engaging people who might find it difficult to participate in arts activities for various reasons such as anxiety, limited access or even scepticism and doubt. Our focus is to create exciting, vibrant and safe creative experiences which move participants beyond the rudimentary 'breaking down barriers' approach WHICH IS often found elsewhere.
The type of projects we deliver include large scale community performances, personal and social skills projects, educative plays, short films and even advanced improvisation skills.
All our work aspires to deliver the highest quality and creative output but is underpinned by solid psychological principles which help participants develop courage, personal and performance skills and emotional resilience.
We have twenty plus years of experience of working with groups as diverse as people with Psychosis, Hospital Consultants and Cornish fishing villages.
Additionally our Arts and Business training work is delivered to over 1,000 people annually all over the UK and continues to spread the concept that creative practices in business environments needn't be scary but can be practical and applicable as well as entertaining - they learn more that way!
Focus
Community
Site Specific
Theatre in Health
Organisation Type
touring
Also 'Arts and Business' Training
Contact
PO Box 70, Truro
Cornwall
TR4 9YF

Carol Brooking

Executive Director