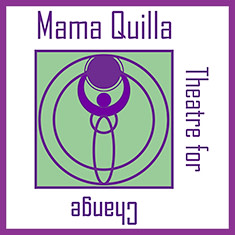 Mama Quilla productions
London
Mama Quilla is an award-winning, woman-led, performing arts company spotlighting neglected human rights issues. It was founded by Kay Adshead and Lucinda Gane in 1999 to offer a female perspective on the big issues of the day. It also recognizes and seeks to combat the waste of resources and talent in female theatre practitioners over the age of 40.
"Mama Quilla shows that theatre still has the capacity to address public issues." – The Guardian.
Mama Quilla works in communities with the vulnerable and dispossessed, creating innovative street/site-specific performance theatre, celebrating their voices and exploring their experience.
Awards and nominations include,
Fringe First
Manchester Evening News Best Fringe Performer
Adelaide Best Play of Fringe
Adelaide Fringe Sensation
Nominated for Susan Smith Blackburn award twice
EMMA
Houston Play On Purpose Award. 2019.
Contact
14 Dover House Rd
London
SW15 5AU
Wandsworth
0208 878 2909
07788576756

Kay Adshead

Artistic Director/ Executive Producer

Kay Adshead

Artistic Director/ ExecutiveProducer