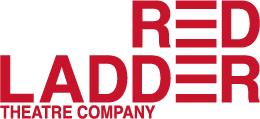 Red Ladder Theatre Company
North
Red Ladder Theatre Company was formed in 1968 by a collective of theatre makers meeting in the front room of Roland Muldoon's house in Hackney. The company first performed at the anti-Vietnam War demonstration led by Vanessa Redgrave and Tariq Ali which took place in Grosvenor Square and where thousands of students and workers gathered to protest at the American invasion of Vietnam.
In 1968 the company aimed to take theatre directly to 'working class' audiences in places like Trades Union clubs and working mens' clubs. In 2010 the company commissioned Boff Whalley of the band Chumbawamba to write an alternative musical comedy aiming at the kind of audience who would not feel comfortable in a theatre, the same audience that the 1968 incarnation of Red Ladder aimed to reach. Since then Boff has written the company several popular pieces including 'Sex and Docks and Rock & Roll' 'Big Society: a music hall comedy' (which starred Phill Jupitus alongside the band Chumbawamba) and 'Wrong 'Un' a musical for one woman without musicians about a working class Suffragette.
In a recent 'away day' with 14 artists, one of our associates pointed out that there are two strands to Red Ladder's contemporary work – popular political musical comedies (following the John McGrath of 7:84 tradition of a 'good night out') and serious contemporary dramas written by leading contemporary writers.
Red Ladder was one of the founding companies of ITC and our long history as a member shows our commitment to the ITC and the important work that it does.
Our recent productions include: The Damned United at West Yorkshire Playhouse and Derby Theatre - March & April 2016. This was an adaptation by Anders Lustgarten of David Peace's ingenious novel describing the 44 day turbulent 'reign' of Brian Clough at Leeds United in 1974.
In June 2016 we staged a large scale community piece entitled Leeds Lads written by Anthony Clavane and Nick Stimson charting involvement in the Battle of the Somme of Leeds residents, their families and their friends. It also reflected on 2016 Britain and our attitude to Serving Veterans and the affect that war has had on them. Starring Jamie Jones-Buchanan - Leeds Rhinos and Great Britain rugby league legend.
A recent poll commissioned by The Stage found that 63% of residents in the UK want to see their local council budgeting at least 50p per person per week on arts, museums and heritage. More than ever we need to stand together to fight the attack on the quality of our lives by neo-liberal austerity plans. Being an organisational member of ITC is vital in these difficult times. Art is not a privilege it is a right and one that we must fight for together.
Rod Dixon
Artistic Director of Red Ladder
Contact
3 St Peters Buildings, York Street
Leeds
West Yorkshire
LS9 8AJ
0113 245 5311

Rod Dixon

Artistic Director