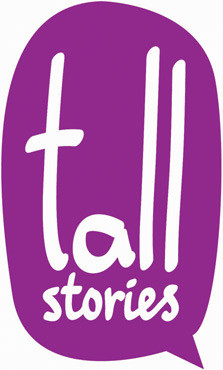 Tall Stories
London
Tall Stories began with a chance meeting between Olivia Jacobs and Toby Mitchell in the box office of Soho Theatre when it was based at the Cockpit. Finding ourselves to be on same wavelength in our view of theatre and storytelling, we ended up co-founding a theatre company. As you do.
The first two Tall Stories productions were created for the 1997 Edinburgh Fringe. 'Alice and Mr Dodgson' was a two-hander about the friendship between Lewis Carroll and the real Alice and 'The Happy Prince and Other Stories' was an adaptation of three of Oscar Wilde's heart-rending fairy tales.
Audiences and critics told us how great it was to see high-quality productions for families which were not patronising but rather challenging, entertaining and enjoyable for adults and children alike. We were surprised; we hadn't specifically intended to make family shows – just productions that we ourselves (or people like us) would want to watch.
Two years later, we created a dark version of 'Snow White' that toured the UK and north America, and soon after that we read a quirky little picture book that had just been published. We loved the story and immediately bought the rights to adapt it. The book was 'The Gruffalo' – and it turned out that the rest of the country (and the world) were going to love it too.
Tall Stories is now in the happy position of being a non-revenue funded charity that is able to tour small-scale, often risky work, subsidised by our more commercial work. In fact we try to encourage our more mainstream audience to follow us and see something new, somewhere new - thus encouraging the growth of audiences for smaller scale venues and smaller scale work. Occasional project funding (from the Arts Council and from trusts and foundations) helps us in this quest.
Over 20 years, we've created 28 original new shows; we've toured throughout the UK, continental Europe, north America, Asia and Australasia; we've produced numerous West End runs, Broadway productions, shows at Sydney Opera House and some fabulous performances in museums, schools, garrisons and summer festivals. And we're still creating shows that we ourselves want to watch, telling great stories in imaginative and entertaining ways.
Although we didn't start out aiming to be a company for family audiences, we're proud to have been a part of the growth of cross-generational theatre in the UK. While there is now much more competition than there used to be, there also seems to be a much greater awareness of the importance of work for families from audiences, funders and critics alike.
We joined ITC years ago – so long ago in fact that we can't remember exactly when. We joined for the advice and information that is on offer, for the potential of training, for the networking and sector-wide information and also as a marker to our creative and other partners that we were going to do things properly – that we were reputable and would follow industry standards. Years on, our membership is still important for all the same reasons.
We have so many plans (new productions, an exciting new project in schools, an experimental cross-over show for adults and young adults, potential new international collaborations) and are feeling positive about the future of the sector and of live performance in general.
Now that the internet seems to have devalued recorded music and that audiences young and old are flocking to live music gigs and festivals, we believe that people's renewed enthusiasm for live performance is already crossing over into theatre. The question is – what kind of theatre? Theatre for families seems to be still going strong – although audiences are increasingly picky about what titles they choose to see.
And – for younger adults – immersive and site-specific theatre seems to be an ever more popular choice. These days, audiences seem to want to be involved more, not just watching fourth-wall productions. Who knows, maybe even in traditional theatre spaces, we could see a return to the rowdy enthusiastic behaviour of audiences in Shakespeare's day. A little like schools and family audiences always have been...
Contact
Somerset House, West Wing, Strand
London
WC2R 1LA
Westminster
020 8348 0080