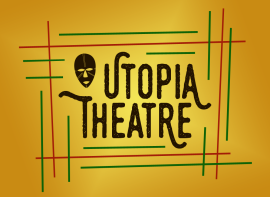 Utopia Theatre Limited
North
Utopia Theatre Company Limited is a professional theatre company founded to produce and tour reinterpretations of classic plays, new writing and plays from and about Africans in the diaspora.
Utopia Theatre  is a company limited by guarantee. It was founded in 2011 by Moji Kareem.
Utopia productions are the result of sustained collaborative effort to synthesize sound, music, image, dance, movement, storytelling and text. We are committed to developing new writing and giving black actors the opportunity to hone their craft on stage.
Our work follows these basic ideas:
• It is important to develop unique experiences for audiences by creating original works and adaptations that push the boundaries of modern storytelling.
• No story can be told in the modern theatre without a fully-realised conceptual design that guides every aspect of a production.
• Dedication to using technology and multidisciplinary arts to increase the impact of our storytelling.
• Live theatre is the best way to tell a story, and we view each of our projects as a chance to bring new audiences to the theatre. We reach out to and challenge new audiences by choosing non-traditional subject matter that challenges established ideas of what theatre is capable of.
• The work is about taking risks, aesthetically and physically, about breaking down the barriers between dance and theatre.
• That our work is accessible to as wide an audience as possible.
• That we deliver theatre at its highest, most raw, unflinching and entertaining form.
• That members of the audience do not feel a mere spectator, but to be at the very center of the play.
• That images matter as much as words and words as much as images.
Artform
Dance
Drama
Mixed Media
Musical Theatre
Physical
Focus
Community
New Writing
Rural Touring
Young Peoples
Contact
Utopia Theatre The Crucible 55 Norfolk Street Sheffield S1 1DA
Sheffield
South Yorkshire
S1 1DA
+44 [0] 114 201 3837
07584243464

Moji Kareem

Artistic Director