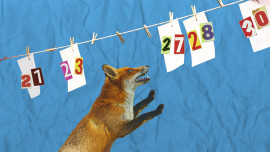 Degenerate Fox Theatre
London
Degenerate Fox are Neo-Futurists in London.
We create theatre that removes all artifice - we are here, we are us, the time is now and we are doing what we are doing. We will engage, titillate, confront, expose, encourage, confess, and above all...entertain.
'The Dirty Thirty' is a collection of thirty original plays which Degenerate Fox will valiantly attempt to perform within one hour. These plays could be anything - comedy scenelets, dramatic monologues, intricate dances, games, songs, experiences, and stuff there just isn't a definitive name for - yet. Degenerate Fox create new material to add to the Menu each week, creating an ever-changing smorgasbord of theatrical delights. And perhaps most exciting of all? The audience get to decide the order in which the plays are performed!
Since we began performing in 2017, Degenerate Fox have performed over 500 original plays. We have started an Education & Outreach program, running workshops for young people at community organisations and schools across England. We have organised and sponsored a free community self-defence workshop. We have raised money for multiple charities and community organisations. We have grown in numbers year on year.
Degenerate Fox is proudly made up of talented performers, writers, directors and theatre-makers from across the globe, some of whom are LGBTQIA+ and disabled.
Focus
Community
New Writing
Rural Touring
Young Peoples