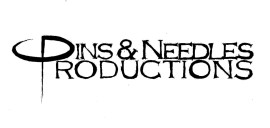 Pins and Needles Productions
South West
Pins and Needles' produce quality theatre for Early Years, Families and Young Adults. We develop adaptations and create original works. We are passionate about finding theatrical, imaginative ways of telling stories to challenge expectations and ignite audiences' senses. We have a growing reputation for staging ambitious theatre with innovative design and deft direction.
Our ambition is to introduce young audiences to theatre and continue the engage and inspire them as they grow. We are also focused on re-engaging Young Adults and challenging their expectations of what theatre is.
Pins and Needles is jointly run by Director Directors Emma Earle and Designer Zoe Squire and is the Associate company of the egg, Theatre Royal Bath.
Artform
Drama
Mixed Media
Physical
Puppetry
Contact
1.16 Paintworks Bristol BS4 3EH
BS3 4SL